Baby Blessing No. 2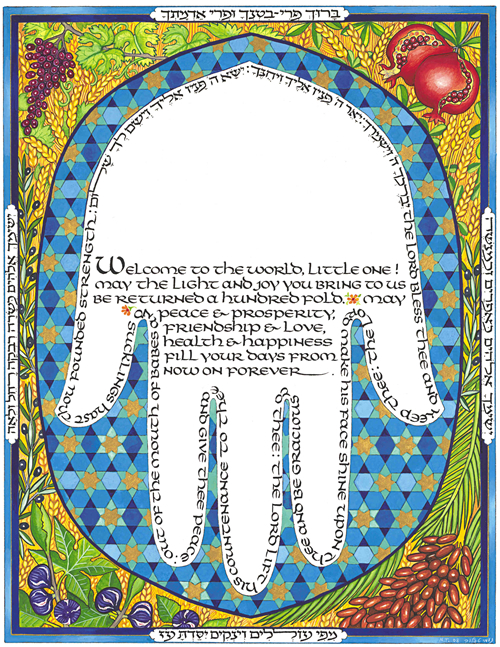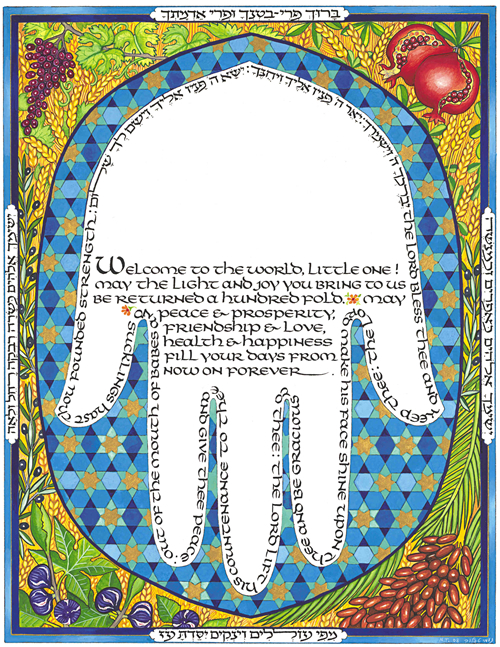 Baby Blessing No. 2
Limited Edition Giclee Print
300 units
8 1/2" x 11"
Your baby's details, in calligraphy or in handwriting, will be written in the blank space above the blessing.
The imagery for this piece is very similar to that of No. 1. It is based on the theme of seeds and stars, referring to God's promise to Avraham Avinu (our father Abraham ) where God said: "Look now toward heaven, and count the stars, if thou be able to count them;" and He said unto him: "So shall thy seed be." - Genesis, 15:5
In the outer border, are the seven species of Israel in full ripeness, showing their seeds: pomegranates, dates, figs, olives, grapes, barley, and wheat. Next, is a geometrical pattern of stars within stars, and then – a glimpse of the universe and its stars as Abraham might have seen them when he looked up toward heaven.
The main text of the blessing is written in English inside a Chamsa, a hand-shaped symbol of good luck and prosperity in Jewish and Islamic tradition. Some say it symbolizes the hand of God, therefore, the main blessing and the baby's details are "enclosed" in the hand.
If you choose the piece with my own calligraphy, the name of the baby and his/her parents, in both/either Hebrew and/or English, and the date and place of birth, will be written at the top of the "Hand", centered, just above the main blessing, which reads:
"Welcome to the world, little one! May the light and joy you bring to us be returned a hundredfold. May peace and prosperity, friendship and love, health and happiness fill your days from now on forever."
If you choose the piece without the calligraphy, you can fill in the details by hand. Use a good quality black pen like the Pilot Precise, for example.
Written around the chamsa in Hebrew and/or English:
"The Lord bless thee and keep thee. The Lord make his face shine upon thee and be gracious to thee; the Lord lift His countenance to thee and give thee peace." - Numbers, 6:24
"Out of the mouth of babes and sucklings hast Thou founded strength." - Psalms. 8:3
Written on the border in Hebrew only:
"Blessed shalt be the fruit of thy body, and the fruit of thy ground (earth, land)." - Deut. 28:4
"May God make you like Ephraim and like Manasseh. / May God make you like Sarah and Rebeccah, Rachel and Leah." - The Daily Prayer Book