The Ten Commandments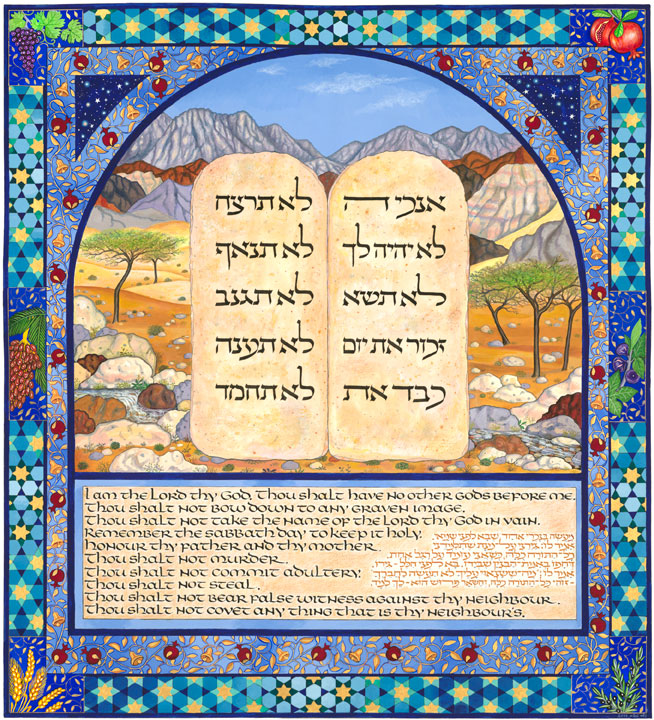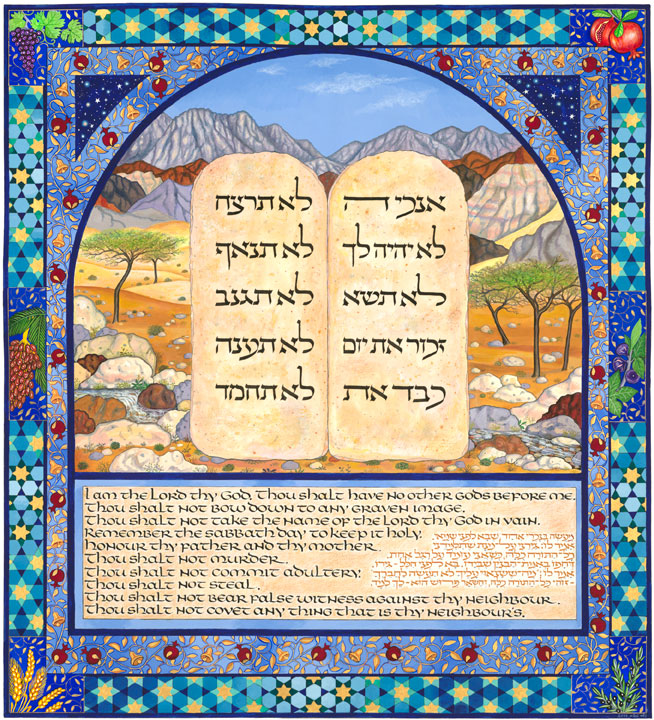 The Ten Commandments
Limited Edition Giclee Print
180 units
17"x 18 7/8" (available in a smaller size)
The English translation is abridged, though not as much as the Hebrew, which I wrote on the tablets in the traditional abridged form used in Jewish art throughout history. To fill the space left by the short commandments in the English part, I added in Hebrew the story of Hillel's summary of the whole Torah while one stands on one foot:
A certain heathen came before Shammai and said to him, "Take me as a proselyte, but on condition that you teach me the entire Torah, all of it, while I stand on one foot." Shammai instantly drove him away with a builder's measuring rod he had in his hand. When the heathen came before Hillel, Hillel took him as a proselyte. He said to him, "What is hateful to you, do not do to your fellow man. This is the entire Torah, all of it; the rest is commentary. Go and study."
Shabbat 31a. (The Book of Legends, Bialik and Ravnitzky)
The middle painting is a scene from the Sinai desert, with the acacia trees of which the ark, the tabernacle, and its furniture were made.
The water in the foreground suggests God's miraculous sustenance of the people during the long, arduous journey in the desert, on their way to the Promised Land.
The border around the main painting is based on the pattern God commanded Moses to make around the priests' robe: pomegranates and bells of gold, blue, purple, and scarlet (Exodus, 28:33). Around that, are the seven species, symbolizing the richness of the Land of Milk and Honey.
The star pattern and the stars in the dark triangles on both sides above the main scene suggest God's promise to Abraham that his descendants would be numerous like the stars in the heavens (Genesis, 15:5).